The 2022 Chevron Alternate Kit
INTRODUCING THE CHEVRON KIT
At the heart of the Cavalry FC crest
is the Chevron.
It's both an homage to the military aspect of Cavalry FC and the Lord Strathcona's Horse (Royal Canadians) tie-in, but also a tip of the hat to our club's location in Alberta Foothills next to the stunning Rocky Mountains. The lower back of the jersey features the club's flag logo in red – tying in the traditional lance used by the Lord Strathcona's Horse (Royal Canadians).
Our 2022 alternate kit brings back the popular green colour palette–not seen since 2019–with pops of red at the collar and sleeve.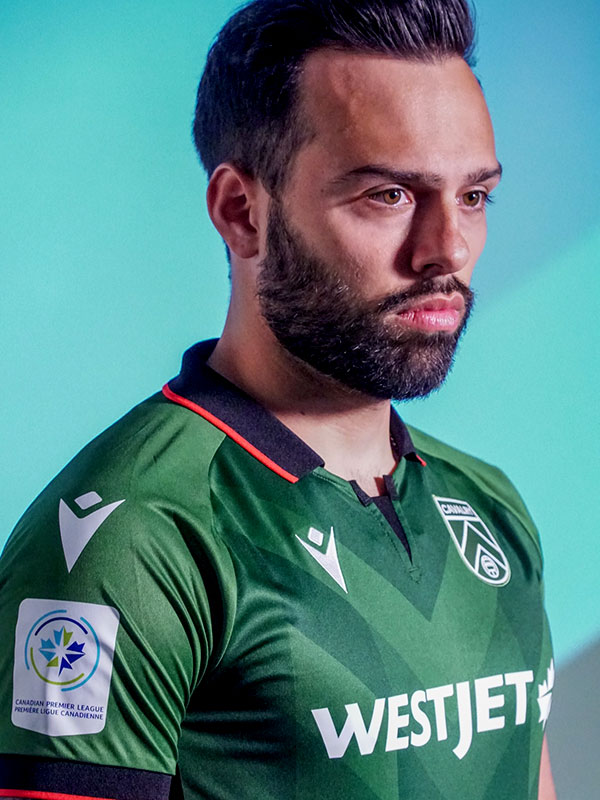 COMMITTED TO SUSTAINABILITY
This season all Canadian Premier League / Macron kits are made from Macron Eco Fabrics – made with a thread that is 100% PET recycled polyester and is certified by Global Recycle Standard. For every produced jersey, thirteen 500ml water bottles are recycled.
PET is a material made of oil or natural gas and can be 100% recycled, returning in the market in the form of new eco-sustainable products. In particular, the PET gathered after its first use is reduced in 2 mm chips and subsequently treated to obtain a thread that guarantees the same performance of a virgin thread. The thread does not lose its original characteristics during its treatment and for this reason, may be repeatedly recycled. Also, compared to virgin polyester, PET recycled polyester has the advantage of requiring less energy during the production chain. Read more about Macron 4 The Planet here.
FREQUENTLY ASKED QUESTIONS
Can I use my Season Ticket Member discount on the new kit or retail items?
Yes, Season Ticket Members can use their discount. When shopping on our online store, simply add your account number at checkout to the discount box or, on Matchday, present your account number to the Sales Associate at checkout.
Can I get the new kit customized?
Customization will be available on matchdays in the Cavalry Shop for an additional fee. Unfortunately, at the moment, we are unable to offer customizations online – we anticipate this service becoming available for our Season Opener on May 1, 2022.
What sizes of jerseys are available for purchase?
The 2022 alternate jerseys are available in Adult and Kids sizing.
Adult Primary Jersey – $119.99*
Child Primary Jersey – $99.99 **
*Note: Macron no longer manufactures size 5XL
** expected in-store soon!
Is there a matching scarf for this kit?
Yes!  Check out the matching scarf for this Alternate Kit here